Offering a custom forging service optimising your manufacturing process
Trialing a new material for a new or existing product?
We can help with product development with a team ready to advise on materials and heat treatment choices to achieve your goals.
Need a protype forging for a new design?
We can help in the design phrase and advise with our many years of experience, creating not only a cost saving but also a valuable time saving.
Changing method of manufacture?
We are commonly asked to take items that are traditionally closed die forgings and explore the feasibility of manufacturing the component as an open die forging. Often this is because of the many enhancements such as improved grain structure or no longer having the original tooling, therefore, making open die the more cost-effective route.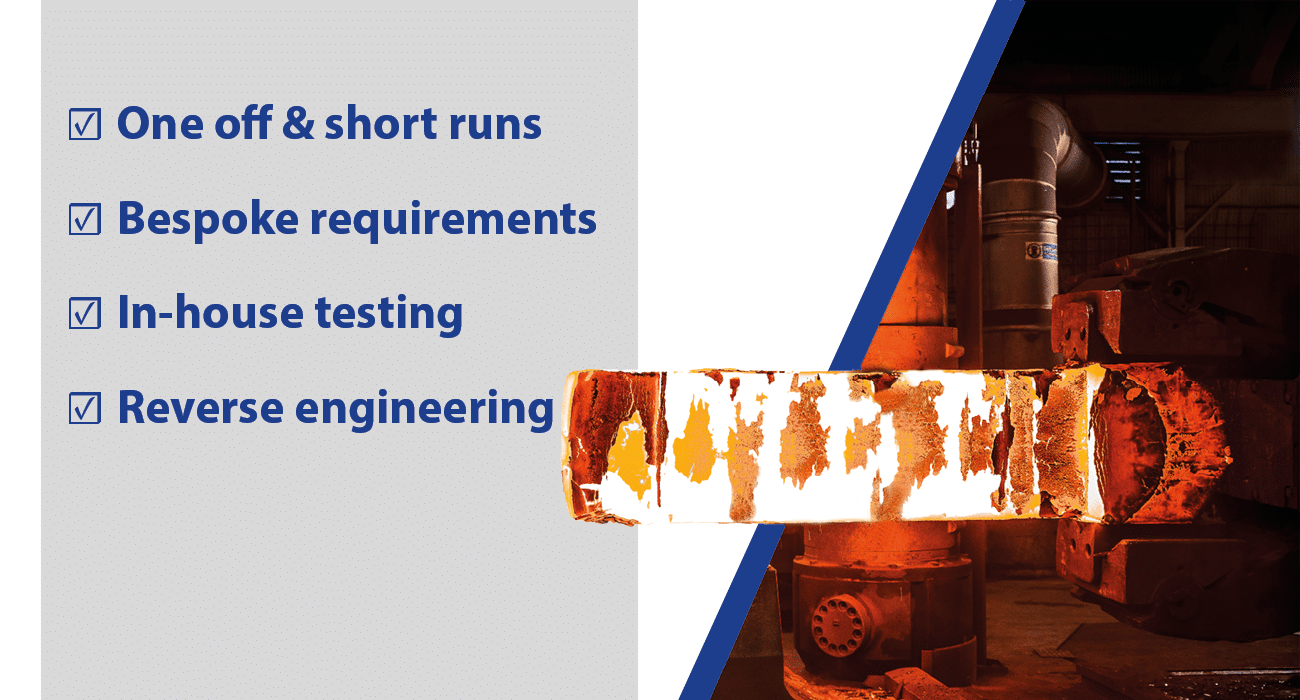 Through providing a skilled workforce and experienced office team, we can work with you one-on-one to create bespoke one-off items that suit any desired project, whether this is raw material or a finished component.
With our extensive background in a vast range of sectors including power generation, oil and gas, defence, marine and aerospace, we understand all the 'know how's', and can find and implement processes and methods that will best suit the course of your desired product.
Our 'One Complete Forging Solution' is done in house and involve these four key components:
Forging – We have both a light and heavy forge, which allows us to cater to almost any shape or size.                                                                                                                                          
Heat Treatment – We continue to evolve our technology and techniques and offer wide range of heat treatments.                                                                                                         
Machining – With our onsite machine shop we offer items in multiple machined conditions, including fully finished forgings.                                                                                   
Testing – All our tests are carried out to European, ASTM standards and third-party inspections, so you will never need to worry about the quality of your products.
Why choose Somers Forge?
Our experienced team can assist with any query you may have and will work collaboratively with you to meet the requirements of your desired item. Here at Somers Forge, we are customer focused and want to ensure that we deliver you the very best final product. For us to do this, we will work alongside you, sharing ideas and our knowledge as well as introducing you to the materials and processes that we know will best suit your bespoke products.