A trusted, diverse material that ensures no matter the item, it is durable and reliable.
Forging Titanium
At Somers Forge, we have many years of experience in the handling and working of titanium alloy grades and have first-hand knowledge of the complexities involved in titanium forging.
We offer a full range of titanium forgings that meet our customer's requirements; these range from single bespoke products right through to long run/repetitive items.  We can offer large slabs and blocks, down to smaller weights of just a few kilograms.
Our 4000-tonne press can work and handle larger items such as ingot or bloom and can upset or spread ingots when necessary as our crew are skilled in the production of titanium products. Our hammer units can deal with the smaller end of the spectrum including hubs, blanks, flanges and smaller shafts and again has experience in the field of material. Both units have their own bespoke/unique tooling, helping them to maximise types of forging they can produce and help alienate some of the problems that you can encounter when working with these titanium grades.
Treating Titanium
As these titanium grades are often more difficult to treat than more basic materials, we need to observe and implement limitations and controls when working, with surface contamination needing to be kept to a minimum. Somers impose strict cleanliness controls at all stages of manufacture and our furnaces are monitored constantly and controlled to AMS2750E level. Regular surveys are carried out to ensure optimum performance levels are maintained. Our furnaces have features such as express control functions to further ensure quality and performance.
We also have large saws in-house, which can cut material from small sections up to bigger and more weighty blooms and sections.
Titanium applications
Titanium grades are primarily used and associated with high-end applications and markets, with approximately 50% of the titanium market catering to the aerospace industry. Titanium forgings can also be found in the defence and oil & gas sectors.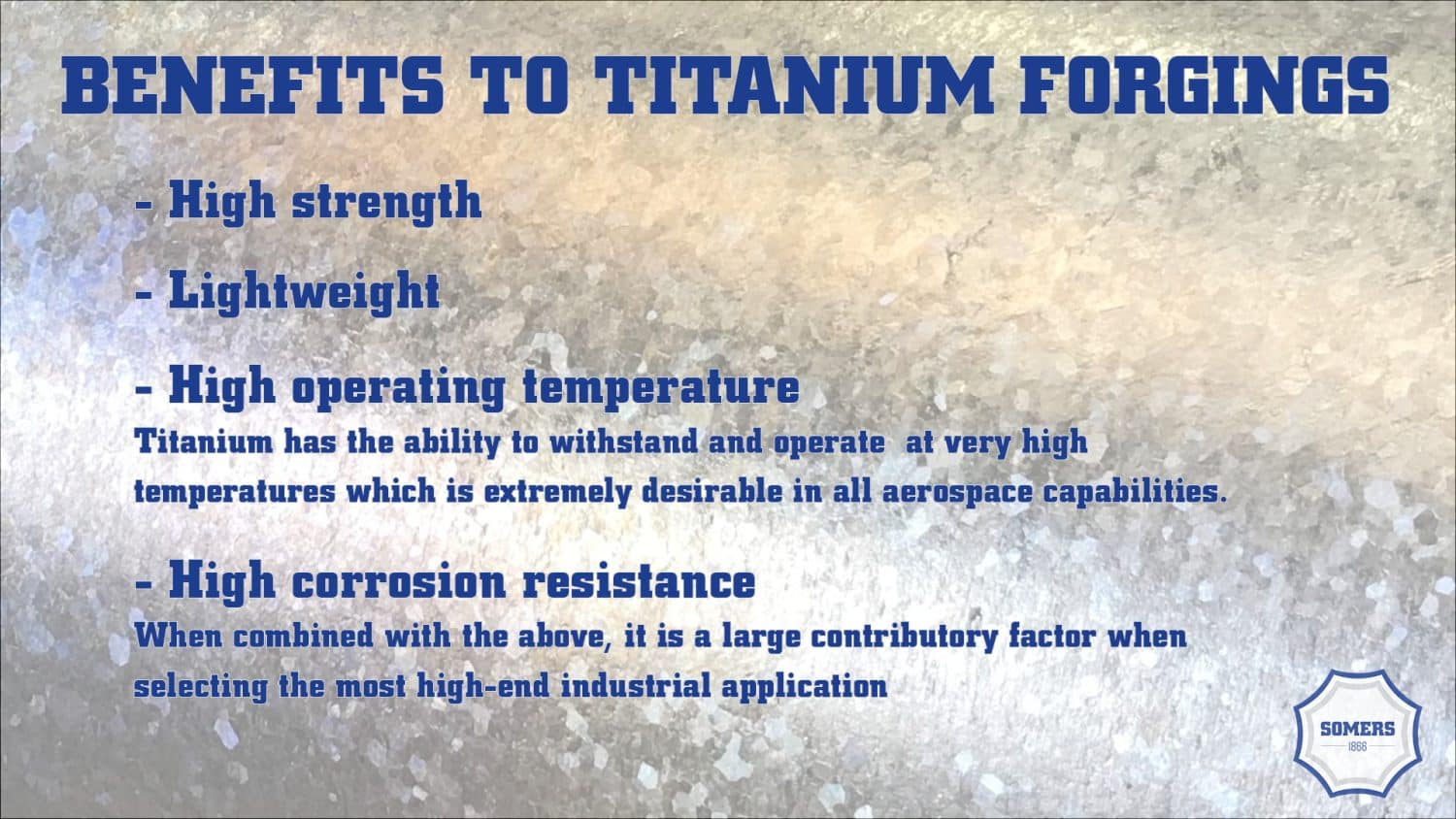 Titanium grades are especially suitable for industries where durability and reliability are of paramount importance; examples of these industries include aerospace, nuclear and naval applications. These components are often subjected to intense conditions and being exposed to numerous challenges in their working environment, so they need to ensure they are both strong and more importantly, reliable.
If you require your raw material to be forged, think Somers. For titanium forging enquiries contact us today via email on sales@somerforge.com